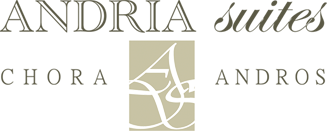 A small complex of luxury dwellings with the purpose to give comfort, fitted with electronically operated safety doors and individual access at all times, day and night, give the sense of being in one's home.

Modern, simple and with careful attention paid to detail, situated in the centre of Hora town in Andros, next to the museums and the pedestrian precinct, are free of any noise pollution.

ALL SUITES EQUIPPED with :

- Air conditioning

- LCD flat screen coloured TV sets

- Telephones with direct internal and external connections

- Desk

- Fax machine

- Electronic safe deposit box

-

FREE

internet access

-

FREE Wi-Fi

- Laptop connecting plug

- Double glazed windows

- Electric iron and ironing board

- Fitted kitchenette with crockery and cooking utensils

- Coffee machine and kettle

- COMPLIMENTARY mineral water, coffee and tea

- Fridge

- Information leaflet

- Map of Andros island with local information

- Smoke detector alarm system




ALL BATHROOMS EQUIPPED with :

- Telephone

- Hair dryer

- Shaver electric plug

- Electronic scale

- Magnifying mirror

- Bath gowns

- Face, hand and bath towels

- Slippers

- Paper tissues

- Personal use toiletry, hand soap, bath soap, shampoo, hair cream,
bubble bath, body, lotion, shower cup

- Supplementary items : comb, shoe shine, face loofah, cotton wool,
sewing kit etc.